REFOX FM-30 Desktop Laminating Machine Built-in Air Compressor & Vacuum Pump - Points Redeem
(Used For Phones & Tablets Flat-Screen Separating/Laminating/Debubbling)
Product Introduction
REFOX FM-30 is a 3-in-1 mini desktop laminating machine that integrates a separator and a debubbler, with no need for an external air compressor and vacuum pump. It is usually used in mobile phone repair and refurbishment with high lamination accuracy and fast efficiency. Suitable for separating, laminating, and debubbling the flat-screen of mobile phones (like Apple iPhone), tablets, and Apple Watches below 9.7 inches.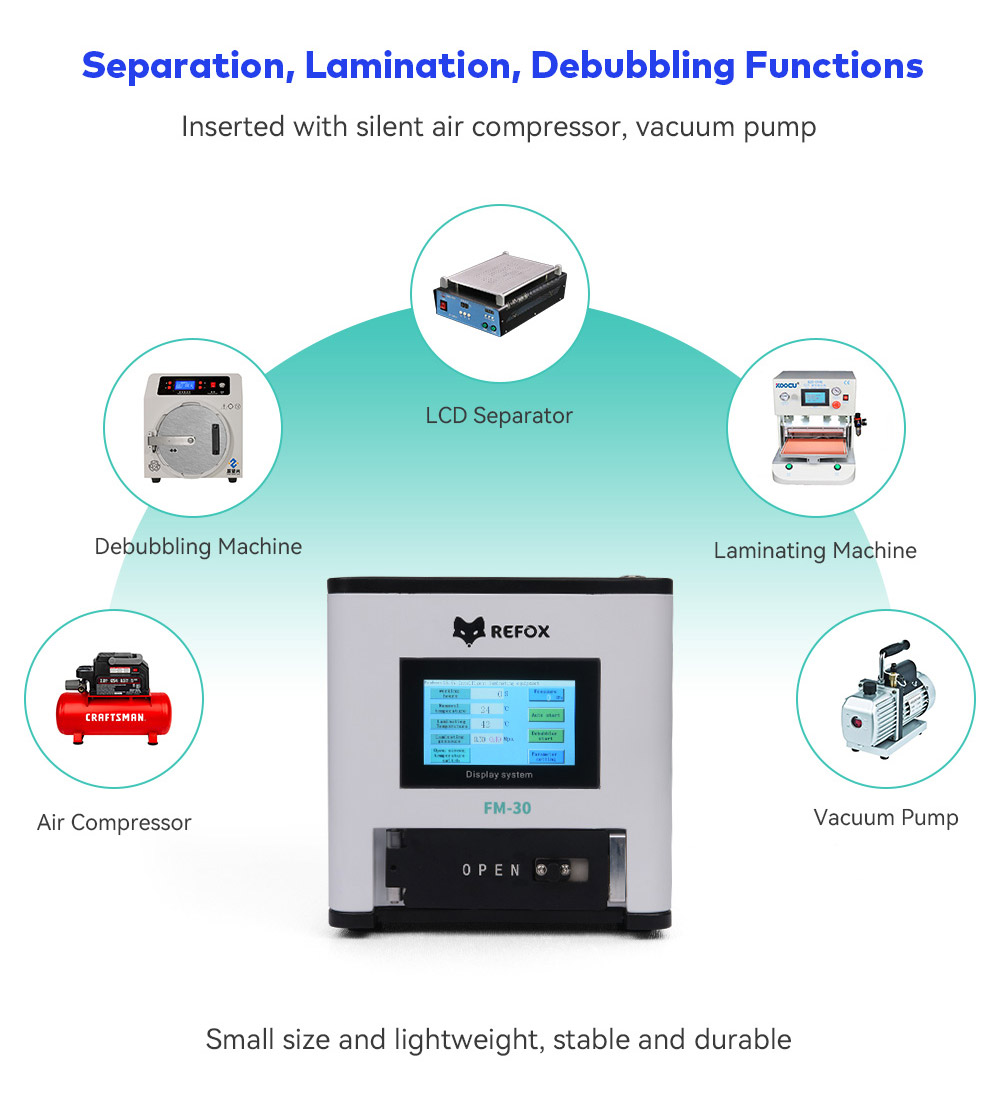 Features of REFOX FM-30 3-in-1 Laminating Machine
Integrated with separation, lamination, and bubble removal functions

Built-in silent air compressor and vacuum pump, low operating noise

Intelligent touch operating system can adjust the pressure/time/temperature

The separator heats up quickly & evenly and has the strong suction

Support separation of mobile phones & tablets below 9.7 inches screens

The efficient lamination without bubbles, 2 functions can be carried out simultaneously

Simple operation, one key to start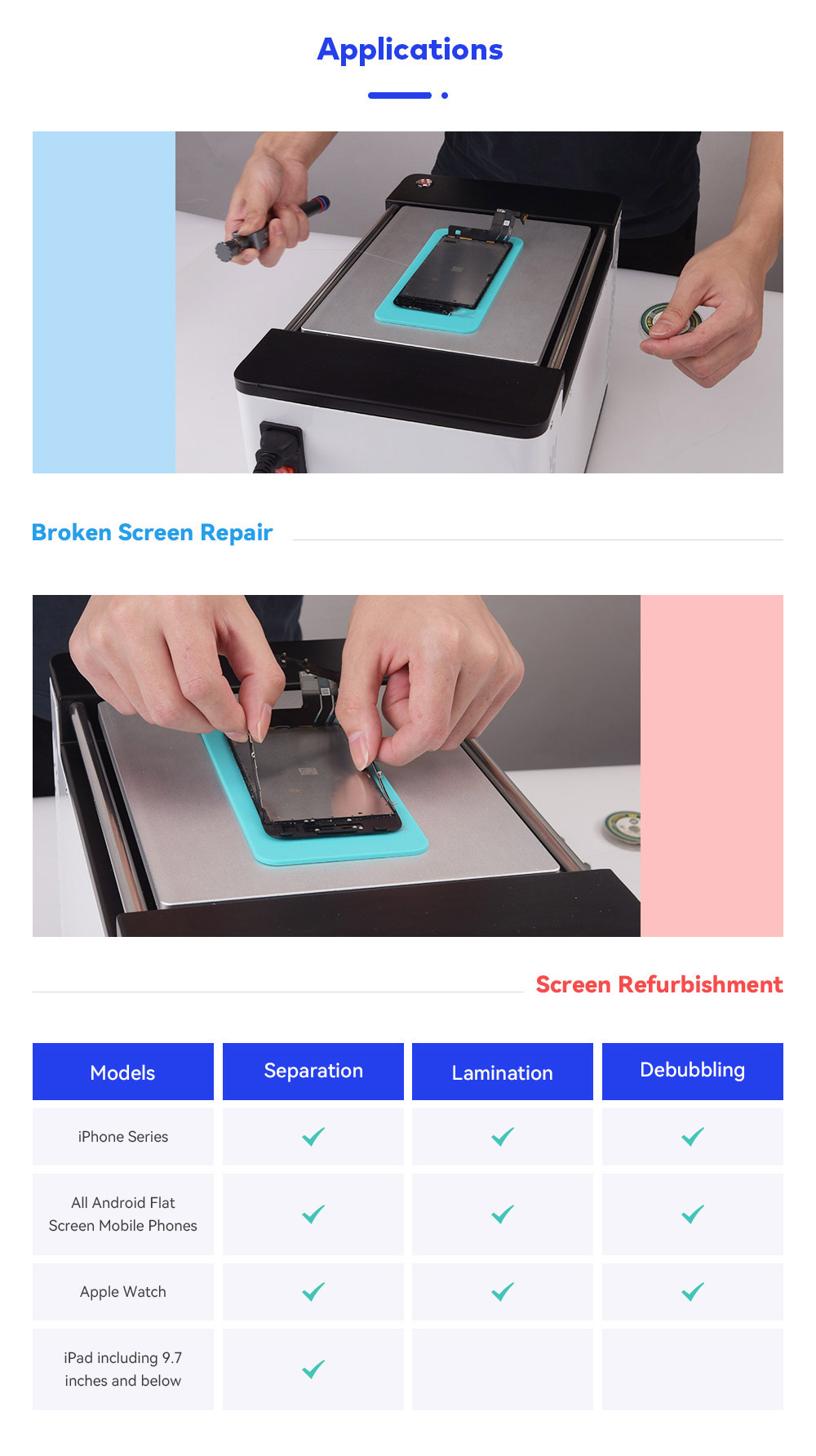 Specification
Product Brand: REFOX

Product Model: FM-30

Product Name: 3-in-1 Desktop Laminating Machine

Product Voltage: 110V/220V

Product Power: 500W

Product Size: 21.5*39*23CM

Package Size: 46*29*45CM

Net Weight: 13.5KG

Gross Weight: 18KG

Certificate: FC&CE

Extended Warranty: 12+1 Months
The Attentions of Using the REFOX FM-30
This device does not support curved screen bonding.

After receiving the machine, it is recommended to run a test first.

Clean the separating platform and the laminating & debubbling cabin before using.

Do not set the pressure value of laminating too high or too low.

Do not click the "Exhaust" button when the machine is working.

The machine should work under high pressure when removing the bubble.

Before removing the bubble, remember to check whether the cabin door is locked well.

Avoid an extra-high temperature for the bubble removal cabin, or it probably gets the bubble back.

Clean the machine regularly as possible to ensure that it is free of debris and dust accumulation.

Install the oil-water separator imperatively before using the machine with 220V, or the tube might blast or dropdown.
Package List
Recommended Accompany Items
1. Tools
Silicone Lamination Positioning Mould for iPhone 6-8 Plus
Refurbishing Alignment Mould for iPhone 12-13 Pro Max
Refurbishing Alignment Mould for iPhone X-13 Pro Max
Refurbishing Alignment Mould for iPhone X-11 Pro Max
Refurbishing Alignment Mould for iPhone 6-XS Max
T3 Instant Dissolver & TUR Fast Solid Glue
MaAnt Steel Wire Holder Rod
Electric Glue Remover Tool
OCA Removal Nano Sponge
Degreasing Rack
Razor Blade
Touch Cutting Wire
Tear Stickers
2. Consumables
Apple iPhone Front Glass with OCA for iPhone 13 mini/13/13 Pro/13 Pro Max
Apple iPhone Front Glass for iPhone X-11 Pro Max
Apple iPhone Front Glass with Bezel for iPhone XR/11
Apple iPhone Front Glass with Bezel for iPhone 6-8 Plus
Apple iPhone Front Glass with Polarizer Film for iPhone 6-8 Plus
Apple iPhone Touch Screen Digitizer for iPhone X-11 Pro Max
Apple iPhone Front Bezel for iPhone X-11 Pro Max
Packing of REFOX FM-30 3-in-1 Desktop Laminating Machine
EPE Foam + Plastic Film + Wooden Box
After Sales Service
Please feel free to contact us for any problem at any time: service@rewa.tech